I SHOP
Lets see what i picked up
Giraffe-Neck Shirt $10
Military-esque light Vest $10
Kakashi Sensei Looking Ass
LMFAO . . . uhh idk
You know what, i really don't think the shopping made me feel better.
It was the being a dick in the dressing room that cheered me up ;)
Moral of this post?
Be a dick with yourself, just don't play with your dick in public.
LMAO
Thanks to Urban Outfitters on 59th Staff, especially the very helpful . . . *errr* i forgot her name but she was real cool and had a kickass hoodie.
Ps: When i'm sad, i also Dance. . .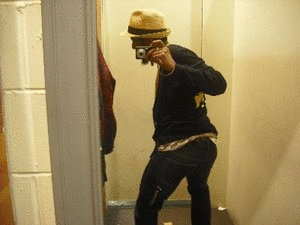 :)